Truguard featured in Perimeter Systems, the security fencing industries premier publication
We are proud to announce that we've been featured in Perimeter Systems, the security fencing industries premier publication, "Company News" section. Here is the text version, you can also download the original PDF from here as well.
Aluminium specialist ABL Components is eager to build on the foundation laid 18 months ago when it took control of production at its Birmingham plant. "It is acknowledged as a leading security product in the market, and the potential is huge," said Neil Markham, who has taken on responsibility for TruGuard within the ABL group.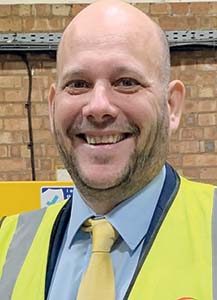 His career in aluminium spans over 25 years with a number of companies in the sector and he was appointed business development manager at ABL Components in August of last year with the role encompassing the commercial aspects of TruGuard. "Our first decision has been to invest in higher levels of stock," he said. "Perimeter protection is a fast moving and demanding market and we need to be able to service it by having stock. Certainly,our ability to hold large stock levels is something that sets us apart from our competitors. Being part of a substantial metals group,we are able to invest heavily in both stock and equipment."
TruGuard production is housed within the 55,000 sq. ft factory facility at Garretts Green near Birmingham International Airport. There is also on-site powder coating facilities.
"Since taking on full manufacturing responsibility we have learnt much about the product and the market,"said Markham. "This is helping us going forward as we look to take TruGuard to the next level."
ABL Components has more than 45 years experience in the aluminium market so the engineering requirements of TruGuard, which is made from grade 6082 aluminium on 2-metre long shafts, have been easily met.
"TruGuard is not new to the market as a product but manufacturing and servicing the market is made easier thanks to resources within the group."
Markham is eager to get the message across and has implemented a number of initiatives to heighten brand awareness, as well as making personal contact with other perimeter protection manufacturers.
"We want to get the TruGuard brand ingrained into the market. TruGuard has so many plus points in comparison to other options in the market. It is lightweight, easy to install, won't rust, is non-injurious; can be installed at 1.8-metres and can be adapted to meet any application."
"Within the system itself, TruGuard has several variations for fixing and configuration. Straight lines, corners, semicircular applications are all possible. Different fixings can even mean TruGuard can be installed on projects that have changes in elevation."
He has been quick to make inroads into the market selling direct through distributors or winning contract specification.
Powder coating offers further options with the full RAL raft of colours available.
"This means we can offer TruGuard in any one of hundreds of colours whether for aesthetics or corporate colour matching which further enhances theselling options."
Markham is not afraid of listening to market feedback and sees that as essential to the development of TruGuard.
"Yes we are always looking to see how the product can be improved or adapted for specific requirements, as well as monitoring our manufacturing processes to ensure they are as effective as possible."TruGuard has an exciting future as the go-to product in its sector and we see every reason to believe that we will be able to double sales inside the next 12 months"
Previous
Next